My name is Ron Crook.  I have been a trial lawyer in Birmingham, Alabama for 25 years representing individuals in lawsuits against individuals and businesses.  I have represented plaintiffs in a variety of claims including medical malpractice, personal injury, fraud, breach of contract, nursing home negligence, automobile and trucking negligence, prison abuse, social security disability, etc.  I am licensed to practice in all counties in Alabama, the Northern and Middle District of Alabama and the 11th Circuit Court of Appeals.  I graduated from law school at Cumberland School of Law of Samford University, cum laude.  In law school I was Associate Editor of the Cumberland Law Review and was inducted into Curia Honoris. 
            Before attending law school, I graduated from the University of Georgia, Medical College of Georgia, and Emory University.  I spent two years in the United States Army at Fitzsimmons General Hospital in Denver, Colorado, and the 95th Evac. Hospital in Da Nang, Vietnam.  I am certified as a Medical Technologist and Specialist in Blood Bank Technology by the American College of Pathologists and American Association of Blood Banks.  I have worked in the Clinical Laboratory in eight different hospitals. I was a supervisor in the Clinical Laboratory at Georgia Baptist Hospital in Atlanta.  For two years I was Clinical Instructor at the University of South Alabama Medical Center and for four years I was an Assistant Professor in the Department of Medical Technology in the College of Allied Health at the University of South Alabama.  I have taught college undergraduate and graduate courses in Immunohematology, Hematology, and Immunology.
            I started my practice of law with Hogan, Smith, Alspaugh, Samples, & Pratt, P. C. and served as managing partner with Hogan, Smith & Alspaugh, P.C. and Smith & Alspaugh, P.C.  During my practice I have participated in cases appealed to the Alabama Supreme Court and Alabama Court of Civil Appeals published in the Southern Reporter.  I have taken depositions in 36 states in the United States plus the District of Columbia, Puerto Rico, and Canada.  I have tried cases before a jury to completion in at least 27 of the 67 counties in Alabama, both in State Courts and Federal Court.  I have also tried cases before a jury to completion in Mississippi State and Federal Courts.  I have an AV Preeminent rating (highest) by Martindale-Hubbell peer review ratings. 

            Every legal case is different and I cannot assure you or predict the final results of a lawsuit, I can assure you that I will take every step and action to do my best in representing your interests.  There is no charge for the initial consultation.  If you and I decide to pursue a case on your behalf, we will discuss an attorney fee which is a percentage of your recovery.  I will advance all costs of the litigation on your behalf.  If there is no recovery, you do not pay any money. 
Ronald R. Crook
                                                 CROOK LAW
                                               (205) 879-2490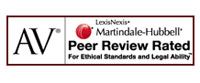 The information you obtain at this site is not intended to be legal advice.  No representation is made that the quality of legal services to be performed is greater than the quality of legal services performed by other lawyers.